Nov 19, 2021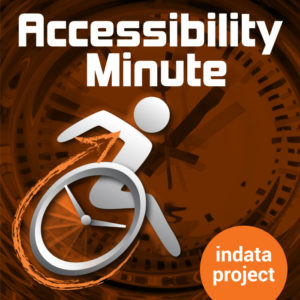 Hey there! Welcome to Accessibility Minute, your weekly look at Assistive Technology, those clever tools and devices designed to help people who have difficulties with vision, mobility, hearing or other special needs!
Looking for a way to record shopping lists, reminders, and more with your voice? Check out the newest version of the Wilson Digital Voice Recorder!
The Wilson Digital Voice Recorder is a compact device that gives users up to 8 hours of continuous recording time. They can easily playback messages through its built-in speaker, or privately by using the earpiece it comes with.
This "state-of-the-art" digital voice recorder is simple to use: "Simply press the record (REC) button, listen for the beep, and watch for flashing LED light then speak in the direction of the Wilson to pause recording press REC button to continue press REC button again. To listen to your message press the Play button."
In addition to recording reminders and shopping lists, users can also record and playback phone numbers, addresses, to-do lists, notes, appointments, directions, meetings, lectures, or virtually anything they want to remember!
Other features include:
Personal digital voice recorder that allows users to record and playback virtually anything they want to remember
Easy to add and delete messages
Easy message retrieving system
Velcro to belts, visors, purses, and more
Requires 2 AAA batteries (not included)
Comes with handy case with velcro strap
New reverse and forward message count
Low battery beep notification
And more!
Check it out on MaxiAids.com to learn more!
For more information, to read our blog, or to drop us a line, visit EasterSealsTech.com.
I want to take a moment to thank InTRAC the Indiana Telephone Relay Access Corporation for sponsoring our transcript today. You can find out more about InTRAC at relayindiana.com.
That was your Accessibility Minute for this week! I'm Laura Medcalf with the INDATA Project at Easterseals Crossroads, in Indiana.