Nov 11, 2022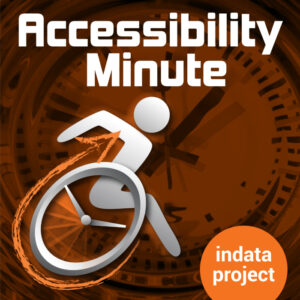 Hey there! Welcome to Accessibility Minute, your weekly look at Assistive Technology, those clever tools, and devices designed to help people who have difficulties with vision, mobility, hearing, or other special needs!
If you're looking for an easy-to-use Braille label maker, check out the 6dot Braille Label Maker from Logan Tech. This portable Braille label maker has a built-in Braille keyboard that supports all grades of Braille in "virtually every language."
It features six good-sized Braille keys on top of the device. The Braille keys are well placed to allow for easy two-handed typing with a spacebar right below the keys, ideal to be pressed with either thumb. There is also a tactile ON/OFF switch on the label maker's right side.
In addition to typing directly on the device, you may also attach a QWERTY keyboard. This allows non-Braillist users to generate labels as well.
Visit LoganTech.com to learn more!
For more information, to read our blog, or to drop us a line, visit EasterSealsTech.com.
I'd like to take a moment to thank InTRAC, the Indiana Telephone Relay Access Corporation for sponsoring our transcript today. You can find out more about InTRAC at relayindiana.com.
That was your Accessibility Minute for this week! I'm Tracy Castillo for the lovely Laura Medcalf with the INDATA Project at Easterseals Crossroads, in Indiana.